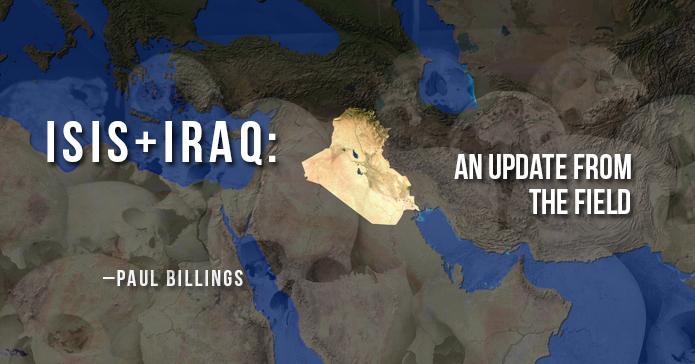 Please be praying for the people of Iraq! Our family arrived in Erbil a little over a week ago. The first night we stayed at a guesthouse in one of the few evangelical churches there. Early in the morning we were awoken by the sound of loud sobbing in the room next to us. That morning we met a family that had just fled Mosul the day before. A man along with his wife and small son had barely escaped with their lives. I sat with my oldest son, listening as this grown man wept uncontrollably as he shared about how a member of Islamic State (IS) had held a sword to his neck threatening to take his life.
IS took his house, his money, all of his belongings, as well as all of his identification papers. The man and his family showed up in the Kurdish city of Erbil with nothing but literally the clothes they had on. This was a common story we heard over the next several weeks by the many people who had fled to Kurdistan. The terror and fear that these people expressed is impossible to communicate through words. Many people had lost family at the hands of IS. While we heard these heart-breaking stories, many also expressed thanks that they were able to come to a place that was safe. Safe that is, until one day we heard that IS had announced they were attacking Erbil and would take that city also. Being so new to the region, not knowing the language, and knowing hardly any people in the city, we received the news by chance. A believer, (who we had met several days earlier), had come to drop some things at our house. He had just spoken with people who had fled there from a town about 18 miles south of the city. Erbil was under attack. IS was much closer and had moved more rapidly then anyone had known.
Panic struck the city.
Stores were quickly emptied as many people were preparing for what might happen. Other evacuees were sending their children and wives to the north. Those who were able to flew out. Many of the friends we just made were packing their cars and driving north in hopes of crossing the border into Turkey. One village that was historically populated by Christians was completely abandoned. Soldiers were everywhere, and it was almost impossible to find a taxi to drive us to the airport. At midnight my wife and I threw a couple bags together, grabbed our five sleeping kids, and headed to the airport. We didn't have tickets and we weren't even sure the airport was still open or if we would be able to get in. The emotions and fears that started to creep in are hard to explain.
Many of the news stories, pictures, and videos of the things IS does to people are only part of the story. What is happening is unimaginable for most of us. Arriving at the airport that night we were unable to get tickets out. A good friend took us home from the airport at around 4 AM. The earliest we could get a flight out was 24 hours later. That was a very long 24 hours. The next day the city had calmed down a lot as the government was promising that the IS could not take the city. Flying out that night we were filled with mixed emotions. We wanted so much to be there to help the people, but the reality is that we were more of a burden.
We were definitely shaken by the whole experience, but this is nothing compared to what most have gone through and what many are still experiencing. We continue to pray (in a neighboring country) about God's timing for us to return. I would encourage you to pray for the people of Iraq and Syria who have suffered so much. Jesus is the only answer for these people. Pray that the evil would stop. Pray that this terrible situation would be used to bring about the greatest good in peoples' lives: salvation.
After working among Muslim people in different countries over the last nine years I am more and more convinced that the harvest is ready. But where are the workers? I know that God is calling us all to pray and I believe that God is also calling many of us to go into the harvest. The spiritual atmosphere is dark, the work is hard, and there is strong opposition, but is there anything too hard for God? I pray this is a wake-up call for us all. I'll leave you with the words from Ephesians chapter 5 (vv.14-17), "Awake, O sleeper, and arise from the dead, and Christ will shine on you. Look carefully then how you walk, not as unwise but as wise, making the best use of the time, because the days are evil" (ESV).